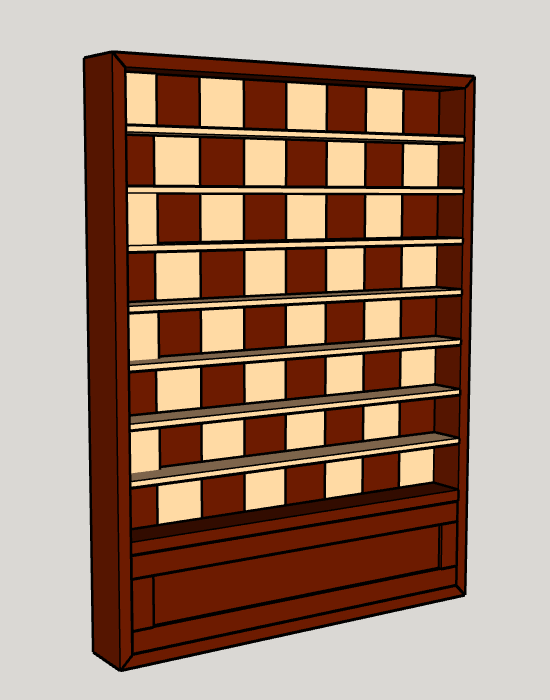 Vertical Chess Board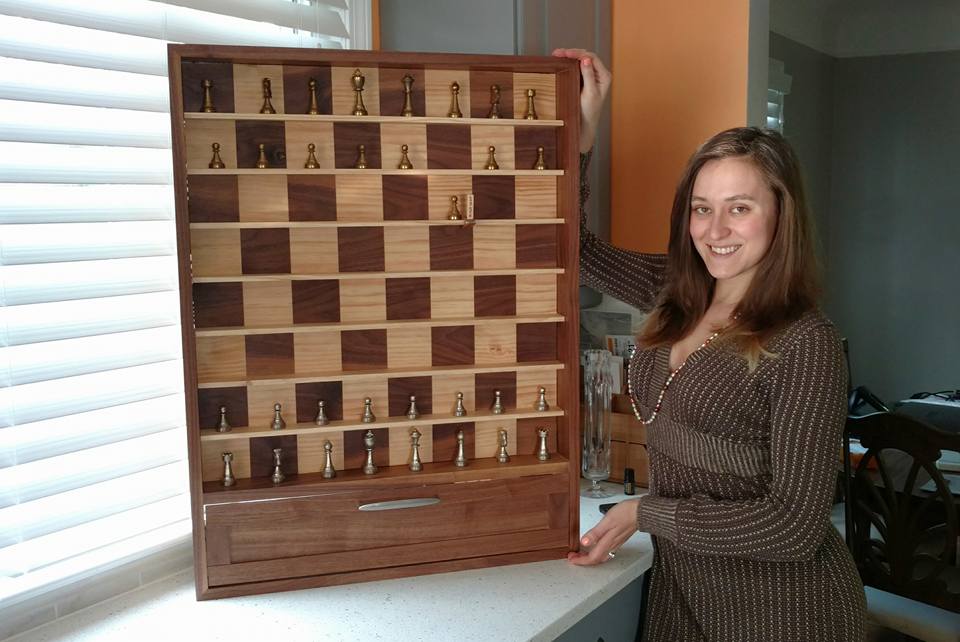 I've been wanting to make a vertical chess board for a while now. When I told Russ about the idea several months ago he was super excited and surprisingly loved it. His birthday is coming up in less than two weeks and I decided I'm going to make one for him. This way I get to use our new table saw and make him a present in the mean time. He's going on his fishing trip soon, so that'll be the perfect time to make it while he's gone. It will be an awesome little surprise. See his biggest surprise here!
In the 1960's my dad was in his 30s, so of course he had the quintessential greaser style hair-do swoosh, the trousers, the smokes, the attitude, everything! Think 'Mad Men'. He definitely had classy taste, proper manners, and a keen eye for style. A lot of people tend to stick with the style during the era of their 'prime'. I've stuck with the early 2000's a little far too long. (When skinny jeans first came out I refused to wear them for at least a year, and I finally just came around to pink jeans but I love them)! In my dad's case the 60's style stuck with him throughout his life.
Before my dad passed away in 2006 he gave me a really cool chess set that he'd kept for years. It reflects his old-school style for sure. The board is crafted with beautiful solid wood and the pieces are silver and brass. I love this chess set, not because of the chess set, but because it takes me back to when he taught me how to play and all the memories that surround it.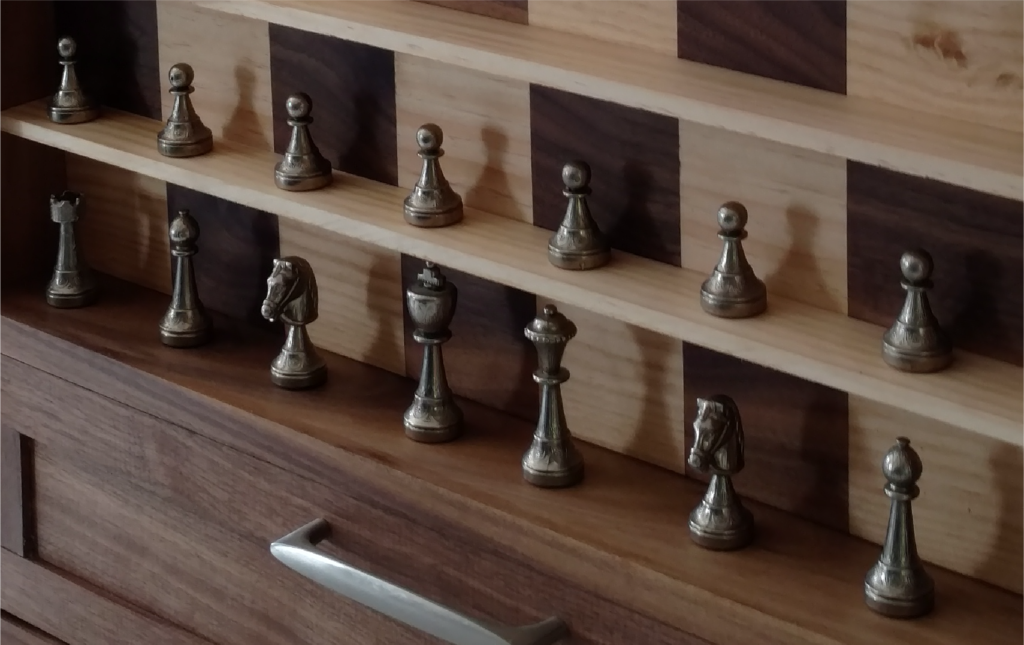 Russ and I use the board as table top decor on our living room side table while the pieces are tucked away in a drawer. We never use it, but it looks nicer sitting on the table than tucked away somewhere.
The Inspiration
I want to build the vertical chess board out of solid wood in alternating wood types instead of just painting or staining the squares. The finished product will be very similar to my dad's board with all the class.
A lot of the designs I've seen have no place to hold the pieces which have been killed so I'm making an extra shelf with tip-out drawer for the dead guys.
I'm designing the size of the vertical chess board around the silver and brass pieces from my dad's set. It will be awesome to be able to put the pieces to good use and display them. Plus the chess pieces are super sturdy and heavy which is perfect for a chess board that will hang on the wall. No swift breeze is going to knock these babies over. But it will not be a happy day if if one does fall on your foot. As for my dad's wooden board, we'll probably continue using it as surface decor. Let me know if you have any ideas in the comments below!
Planning the Design
My tallest piece is 2.9″ high so I'm designing the shelves 3.25″ tall.
I really like the look of squares instead of vertical rectangles from some pictures I've seen of vertical chess boards so the size of each square is 3.25″ high x 3″ wide (taller to allow space for the shelf)
I need 8 squares by 8 squares vertical and horizontal so that means the playing part of the board needs to be 26″ x 24″.
Note*** A1 (lower left) should be the darker color! The plans are correct but the actual wood board is wrong!
What You'll Need
Square clamps
Pocket hole jig
Wood glue
Table saw
Miter saw
Two different types of wood in contrasting colors (pine & walnut)
Drawer pull hardware
Pull out drawer hinges
Wax finish (see how I made my own)
Clothespin
Wood burning tool
Scrap wood for "last move" tag. Please share your clever ideas for a "last move" tag in the comments!
I also made wooden checkers and a king-me clip!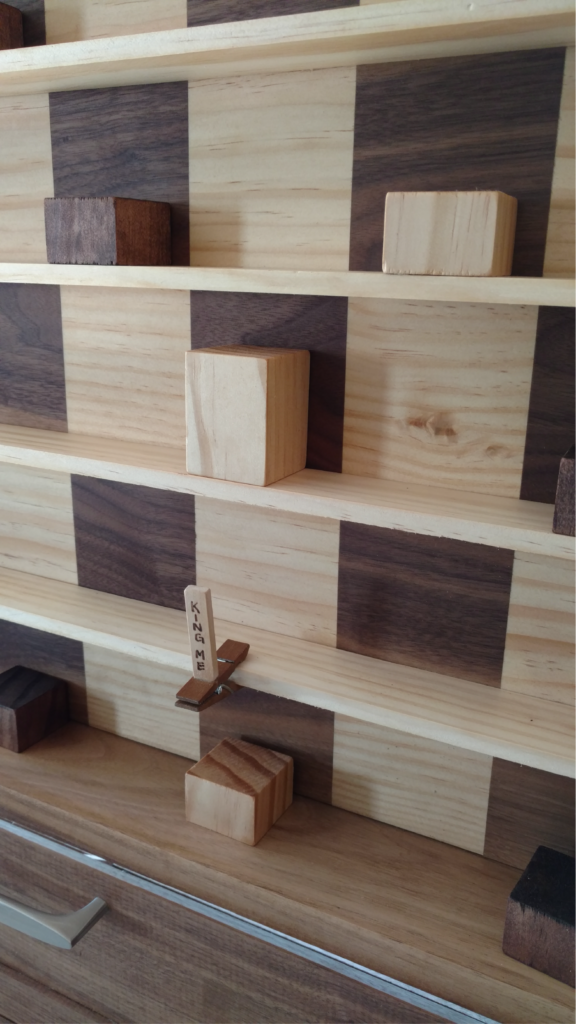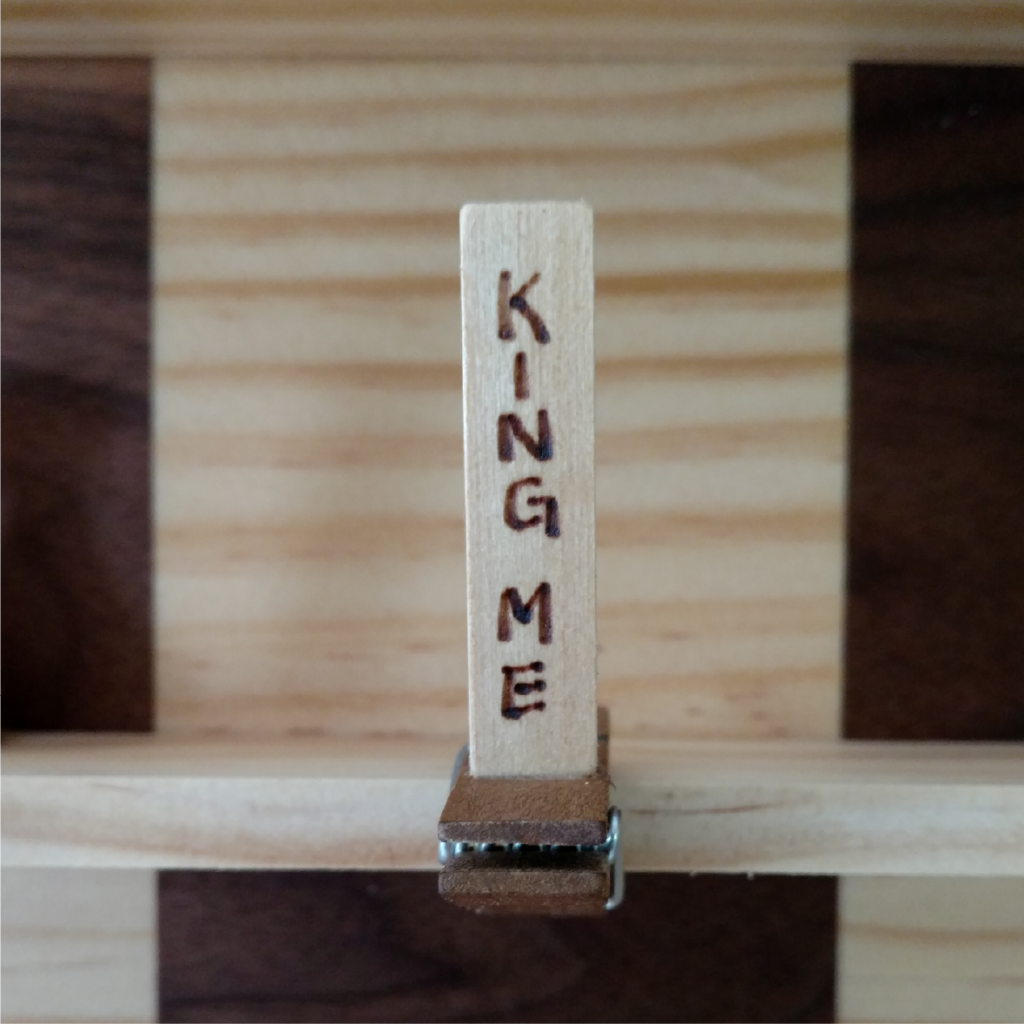 Cut List: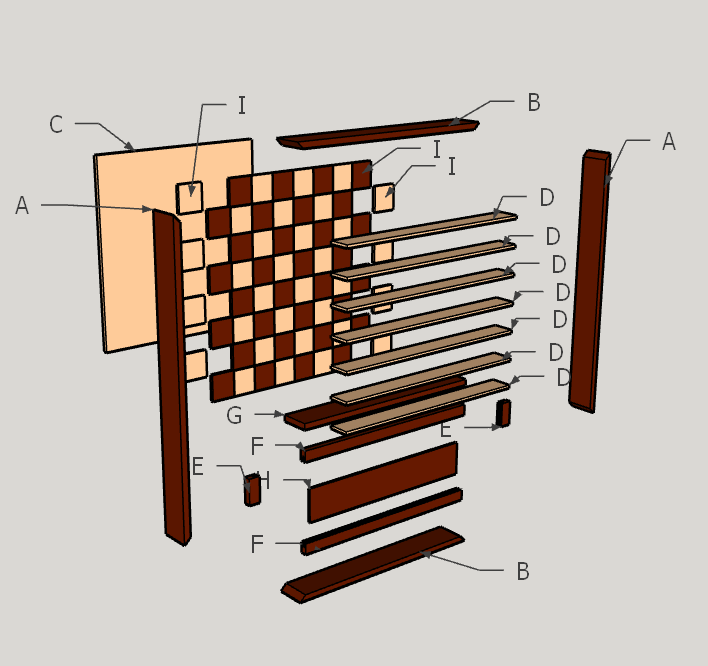 A – 2 each 1 x 4, 34″ long
B – 2 each 1 x 4, 25 1/2″ long
C – 1 each 5/8″ plywood, 24″ x 26″
D – 7 each (rip 1 x 2 in half, (3/4 width minus 1/8 blade kerf) / 2 equals 5/16″), 24″ long x 1 1/2″ deep
E – 2 each 1 x 4, 3″ long x 1 5/16 wide
F – 2 each 1 x 4, 23 7/8 long x 1 5/16 wide
G – 1 each 1 x 4, 24″ long
H – 1 each (rip 1 x 4 to 1/4″ thickness), 22 1/4 long
I – each rectangle is 3″ x 3 1/4″ (see how I cut and made the checkered board in the video below)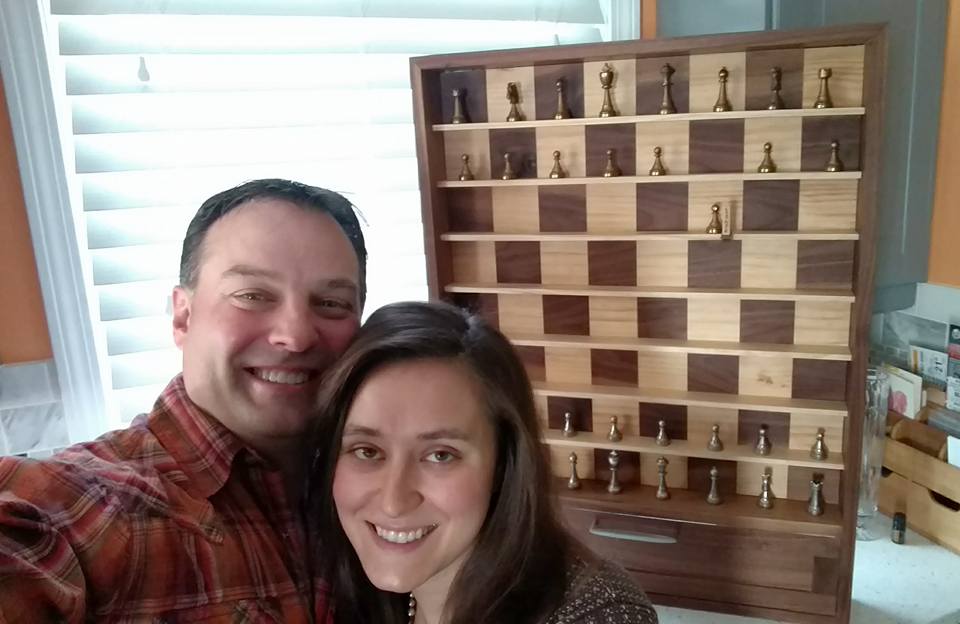 Watch how I made it below!
I love surprises do you? If so, you may also like Russ's birthday surprise!