Our current project is making the bathroom vanity. It is a floating, wall hanging vanity with three drawers and a shallow sink. The bathroom tile is a warm grey and the shower tile is bright white. We were having a really hard time deciding on what to stain our vanity cabinet. At first we thought white would look good, but then decided we wanted something more rich. Since we're using maple we also want to see the wood grain rather than cover it up with paint.
We bought a few small packets of Varathane wood stain to test on our specific piece of material which is maple plywood. The packets contained very little stain, so we didn't have enough to test on the maple hardwood we're using for the face frame and drawer rails and stiles.
We also had a couple other colors to try from the Minwax line.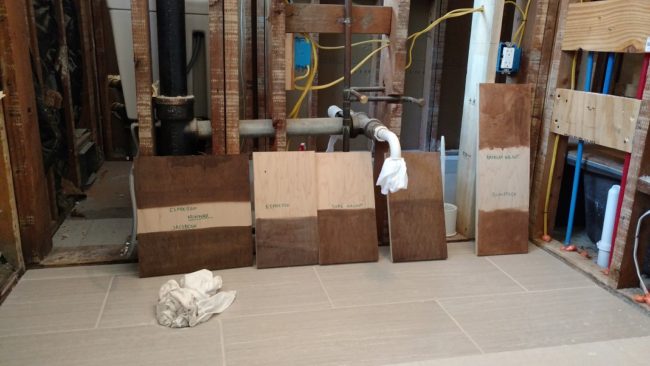 One was Minwax Red Oak stain leftover from another project, the checker pieces for Russ's vertical wall hanging chess board. This is the only stain we did a double coat on the bottom of the board. (the one in the picture where you can't really see the name).
Here is how different stains look in the bathroom on the maple plywood. We ended up choosing. As you can see the Varathane Espresso is much different than the Minwax Espresso. We chose the Varathane Espresso for our vanity build because it achieves the look of brown we were aiming for, a muted grayish tone.
Let us know which one you would have chosen or what you think about our selection in the comments below!
---
As an Amazon Associate I earn from qualifying purchases.